It's hard to find a person who doesn't have at least one good story about the confusion of being a kid. I still remember waking up from a very detailed flying dream (at an age when I was old enough to know better); I eagerly pulled my covers off, climbed onto my dresser in a state of great concentration and flapped my way straight into the carpet.
A lot of artists I love seem to be, in one way or another, inspired by their early years. Kate Greiner is no exception. Last week she told me about cashmere elephants she was working on for Nancy. For her very first Christmas, Kate's mother made her a yellow, elephant ornament with a "1" stitched onto its side.

Kate explained the above ornament as the inspiration for her new cashmere ones.

There's cute Kate Greiner standing by the tree and her elephant.
Here is an example of the elephants Kate started making –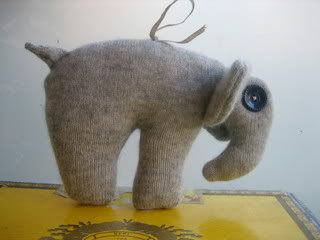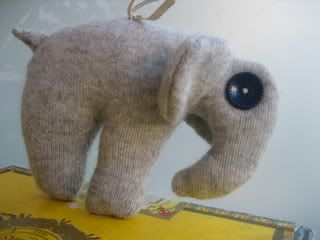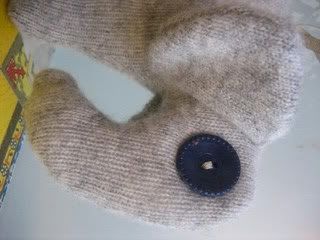 First off, I love this elephant! Its shape and eyes are incredible. Secondly, when I was taking the photo, he kept making an endearing, slow motion topple onto his trunk. It made me laugh every time.
Do any of you have plush pieces from your childhood that still inspire you today?
Also, if you can't make it down to see the shop (Nancy is neighbors with Schmancy and Fancy Pants), Kate keeps a
flickr
and has just started an
etsy shop
. The elephants will be featured soon!!